Blurb
Summary
There are three things I learned that summer I'm absolutely sure of. . .
First, skinny waists and drug habits will almost certainly lead to bad decisions. Second, groupthink is toxic. One should never trust their livelihood on the shoulders of others. Last, don't get stuck in the middle of a drug war.
That's exactly where we found ourselves in the summer of 1992. After our unlikely cast of expatriates grew attached to one another, it was only a matter of time before reality got up from under us.
We lived in the fast lane, right next to love and lust and unbounded by societal limits. It's a miracle any of us made it out alive – if only it wasn't at the expense of others. Was it too late to make things right?
Like Sal Paradise and Dean Moriarty of Jack Kerouac's On the Road this generation of driftaways found themselves in the fast lane with no control, but in this story, the stakes are much higher.
This novel makes a great gift for fiction readers who couldn't put down publications from the Lost or Beat Generations.
Reviews
Reviews
"It's an absolute page-turner. Uniquely inspirational, and completely infectious." — Adam Overby, Founder, AOWanders 
"Perfectly captures the free-spiritedness of travel while also diving into the downfalls of it." — Danielle Spindle, Founder, Nurse to Nomad
"The Kerouac of our time! This is a masterpiece that encompasses youth and vigor. Definitely captured what it means to be alive." — Nancy Alch, Founder, Sunny Co. Clothing
"With realistic characters, tangible imagery, and a voice all his own, Cheshier hit the nail on the head with the Summer of '92. A great read for any millennial searching for a life bigger than themselves." — Lily Dubuc, Founder, WIldflower Travel 
"As I watched their summer of fun in Madrid I was reminded of my own study abroad experiences and how alive being around an amazing group of friends makes you feel." — Cassandra Muenks, Globetrotter
Buy on Amazon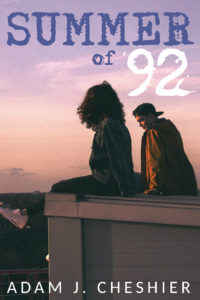 Available on Amazon
Download Free
*** If you choose to download it free, I encourage you to leave a review of your feedback on Amazon. As a self-publishing author, it would help me out tremendously in getting exposure and building a footing.
**** SORRY, DUE TO AMAZON'S EXCLUSIVITY POLICIES, MY BOOK CANNOT BE OFFERED FREE THIS QUARTER. CHECK BACK LATER!